Services
HS Marketing is dedicated to helping alternative investment industry participants be heard, seen and understood.
We work in both strategic and hands-on project capacities, whether providing turnkey or à la carte services to enhance clients' visibility, improve communication capabilities and achieve marketing objectives in the context of industry trends, emerging technology and practical parameters.
Our deliverables focus on our clients' Communication Alpha®.  Watch this video.  We are proud to offer:
Public Relations
Press releases: message development and dissemination across traditional press and social media – Linkedin groups and Twitter
Develop thought leadership topics and awareness via relevant press and media outlets
Media relations (PR): serve as media contact, generate story topics, arrange interviews, provide media coaching and conduct follow-up
Media planning: provide industry visibility raising advice and advertising/sponsorship budget allocation
Communication Initiatives
Positioning / branding strategy
Marketing communication advice and project implementation
Message development / content creation, e.g. drafting and/or editing guest articles, pitch books, websites, elevator pitch
Presentation coaching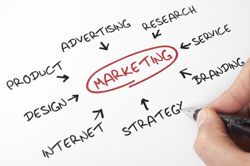 Creative marketing services
Marketing tools including various platforms online/offline

Collateral materials: Pitch books and related presentations
Investor documents
Website and multimedia presentation tools

Full-service design

Graphic identities: design and production
Integration of visual and verbal messaging

Advertising campaigns
Our deliverables often include collaboration of strategic partners. The project team, depending on a specific client engagement and scope of services, may be focused in a particular functional area of expertise that is seamlessly incorporated into the working relationship with our clients. This cost-effective and time-tested approach broadens the suite of services in a highly flexible and collaborative manner. Strategic Partners: Read more >>>
Case Studies
Alternative investment manager
An alternative investment manager whose products include a Managed Futures mutual fund and Private Placement programs engaged us on a turnkey basis to provide public relations, communication initiatives and creative marketing services. Our PR deliverables included message development and media visibility as well as content strategy, article ideas and recommendations. Communications initiatives have focused on positioning advice, visual branding (graphic design) enhancements and a new web presence. We have created and/or improved a large collection of marketing collateral and educational materials covering pitch books, investor presentations, fact sheets, white papers and research articles while providing project management for a multitude of marketing initiatives.
Niche strategy hedge fund manager
A niche strategy hedge fund manager has utilized our creative marketing services on an ongoing basis since pre-launch timeframe. Prior to the fund's inception, our full-service design and branding approach resulted in a graphic identity and focused storyline, while integrating the visual and verbal messaging elements. Our turnkey services delivered a tool kit including the firm's pitch book, web site, DDQ, customized investor presentations, performance report and commentary. Post-launch, we have provided ongoing editorial advice, speech coaching and related services to fine-tune time-sensitive investor commentary and update presentations for various targeted audiences.